First Timer's Guide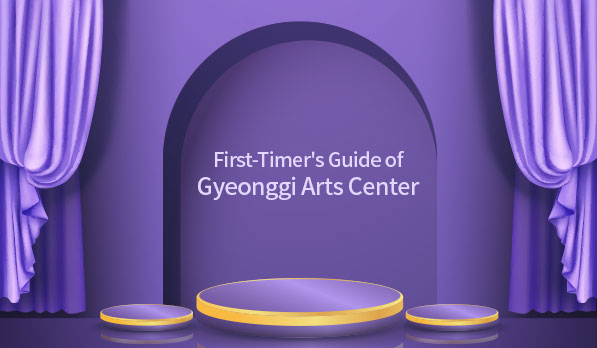 Welcome to
The Gyeonggi Arts Center.

The Gyeonggi Arts Center stages outstanding creative performances by its art companies.
You will have a truly enjoyable experience if you refer to the following safety guidelines and show consideration toward the performers and other visitors.
Q.What are the center's COCVID-19 safety measures?

A

The Gyeonggi Arts Center complies with all COVID-19 safety measures prescribed by the Central and Gyeonggi Governments, and carries out periodic disinfection management in collaboration with medical experts and the internal safety and management teams.

If you want to find out more about the safety measures of the Korean Government, please connect to the website

https://ncov.kdca.go.kr/en/

.

Q.How early should I arrive at the center for a performance?

A

It is recommended to arrive 20 minutes before the start of a performance so as to park your car, and enjoy the surrounding facilities such as the gallery, Café G, park, and others.
Admission begins 10 minutes before each performance.

Q.What should I do if I arrive late for a performance?

A

In principle, admission to the venue after a performance has started is prohibited.
Visitors who arrive late may be seated according to the guide's instructions so as not to disturb the performance and other members of the audience.

Q.Is there a dress code at the performance venue?

A

There is no dress code for visitors to either the Gyeonggi Arts Center or the Gyeonggi Gugak Center.
However, it is recommended that you refrain from wearing strong perfume or revealing outfits that may offend other audiences.

Q.Can I bring food or drink into the performance venue?

A

All food and drinks are prohibited in the performance venue.
Please be aware that even small acts of carelessness could disturb others and ruin the atmosphere of the performance. Please enter the venue only after finishing your food and drink.

Q.Are there any items I should be careful about in the performance venue?

A

Please leave noisy items made by vinyl or flower bouquets in a locker, and only enter the venue after turning off your phone.

Q.Can I take photos or film during the performance?

A

Usually, the filming of curtain calls is allowed. However, in the case of certain performances involved with a rental facility, filming may not be allowed at all during the entire performance depending on the position of the performance management company.

Q.What should I do if I have a question or need help?

A

For inquiries before a performance, please call the Info Shop or submit your question at the website "Contact Us."
For inquiries or help during a performance, please ask the guide, who is always on standby at the venue.