Gyeonggi Arts Center
Directions
Address
Road Name Address

Gyeonggi Arts Center.
20 Hyowon-ro 307beon-gil, Paldal-gu, Suwon-si, Gyeonggi-do (16488) Republic of Korea

Land-lot Based Address

Gyeonggi Arts Center.
1117 Ingye-dong, Paldal-gu, Suwon-si, Gyeonggi-do (16488) Republic of Korea

Enter your Destination

Suwon, Gyeonggi Arts Center (GGAC)
Tel
+82-31-230-3440
Nearby BUS Station
Gyeonggi Arts Center Nearby BUS Station
Station Name
Station ID
BUS Number
Suwon City Hall Station Exit 10 & Exit 1, National Pension Service, Kyeongin Ilbo

Regular11-1. 61, 80, 81, 82-1

Gyeonggi Arts Center, Maetan We've Haneulchae Apartment

Regular5-3, 80, 81, 82-1, 83-1, 88, 88-1, 92

Express3007, 3008(Weekday Operation), 7001, 8800

Maetan Jugong Apartment 4 & 5-danji

Regular11-1, 13-1, 2-1, 9, 9-1, 92, 92-1, 98, 99-2
Select a bus stop number to view its location on Google Maps.
Regular: Gyeonggi bus / Express: Non-stop express city bus
BUS at Major SUBWAY Stations
BUS at Major SUBWAY Stations
Station
Subway Line
Route
Suwon

LINE 1P155

Bundang LINEK245

Hwaseo
Gangnam

LINE 2222

Sinbundang LINED07

Sadang
Subway
BUS at Major SUBWAY Stations

| | | |
| --- | --- | --- |
| Suwon City Hall | | |
From Suwon City Hall (Gyeonggi Arts Center) Station Exit 10 of Bundang Line: Go straight for about 300 meters. → Arrive at the Gyeonggi Arts Center.
CAR
Entry and Exit route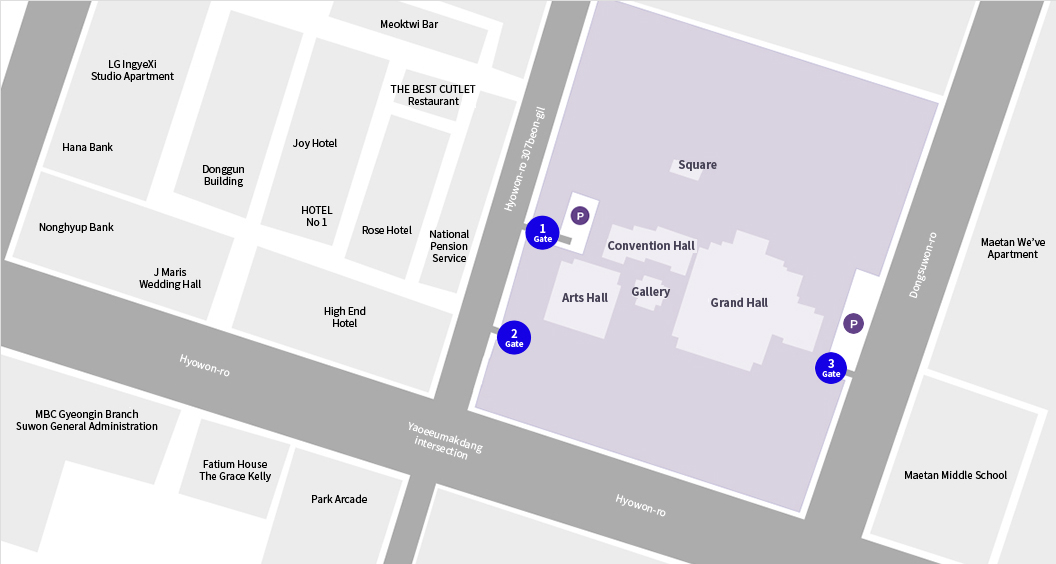 Image Zoom In
Parking
Parking
Category
Basic Parking Fee
(Up to 15 minutes)
Parking Fee
(Up to 1 hour)
Fee for Over 1 Hour
(For each additional hour)
Remarks

Car
Passenger vehicles with a capacity of less than 15 people

Free
KRW 1,000
KRW 1,000
Basic fee

Vehicles with a capacity of 15 to 24 people
Freight vehicles weighing 2.5 - 4.5 tons

200% of the basic fee

Vehicles with a capacity of 25 or more people
Freight vehicles weighing more than 4.5 tons

300% of the basic fee
Discounts

Performances (theatre, etc.)
Events (theatre, etc.)
Exhibitions (Galleries)
Education Program (Convention Center)
Art Class Students

50% discount off the basic fee based on a visitor vehicle's recorded entry & exit times
(It applies only to vehicles that leave the parking facility before 23:00 on the day of the visit.)
※

Only one discount scheme at a time may be applied when calculating parking fees.

※

Parking fee discounts are only applied to vehicles whose owners are able to present proof of visit (event/performance tickets, visit confirmation paper, course registration, etc.) at the payment gate (machine).

※

Parking fees may be collected in advance depending on the situation of the performance venue, and/or parking lot.
Guidelines for Parking Lot Users
Vehicles must park within the parking space lines.
If necessary for parking management, some vehicles may be asked or directed to park in a different lot.
All vehicles must maintain a speed of 10 km/h or less in the parking lot. The use of horns and overtaking are prohibited.
Vehicles loaded with flammable materials and/or other dangerous substances are prohibited from entering the parking lot.
Vehicles are not allowed to conduct commercial activities within the parking lot. Any activity that may interfere with parking and/or traffic flow is strictly prohibited.
Please do not store or leave any valuables inside your vehicle. The Gyeonggi Arts Center is not responsible for theft of or damage to any items left inside a vehicle.